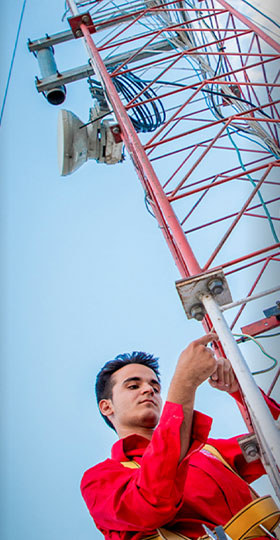 Salaam is the latest entrant in Afghanistan's telecommunication industry providing a top quality, affordable, 100% Afghani solution. Envisioned by the Ministry of Telecommunications and Information Technology, Salaam is committed to revolutionize the telecommunication sector in Afghanistan by complementing the nationwide network with 3G GSM voice and data services.
Salaam gives its customers the freedom to enjoy lowest call rates, both domestic and international, and trouble-free internet at unbelievable rates without compromising on quality.
Committed to bring peace and prosperity to Afghanistan, Salaam is enthused to keep the whole nation connected to only one network i.e. Salaam, the choice of Afghans.
1.     Vision
To become Afghanistan's telecom network of choice connecting everyone, everywhere.
2.     Mission
To become a leader in Afghan telecom market, providing reliable, high quality and fordable telecommunications services to the people of Afghanistan with a view to contribute our bit towards peace and prosperity of the nation.
To translate our vision and mission into action we strictly adhere to our Strategic Pillars:
Honesty in our service proposition
Transparency in our rates and tariffs
Customer focus directing our actions
Highest quality of products and services
Affordability in terms of product pricing
3.     Corporate values
To lead the constantly evolving world of telecommunications, we at Salaam adhere uncompromisingly to our corporate values comprising:
Integrity in our internal and external dealings.
Transparency in our services minus any package restrictions.
Customer friendly to cater to our customers anytime any wherein Afghanistan.
Innovation in our service offerings to stay at the helm of telecom business.
Corporate Social Responsibility to uplift the society and promote CSR practices in Afghanistan.
4.     Key facts
Salam has More than 1,700,000 customers in one year.
Honesty, integrity, transparency, innovation and friendliness have helped us to transform Salaam into Afghanistan's leading 3G Company.
Currently Salaam has covered all regions and provinces.
Afghan Telecom and Salaam has currently looking forward to expand the network toward Afghanistan and providing telecom services in remote areas.
On-line 24/7 Contact Centre (voice, SMS and e-mail).
Currently more than 5000 point of Sales out of it 20 teleshops over Afghanistan and rollout of more point of sales to cover the 34 provinces.