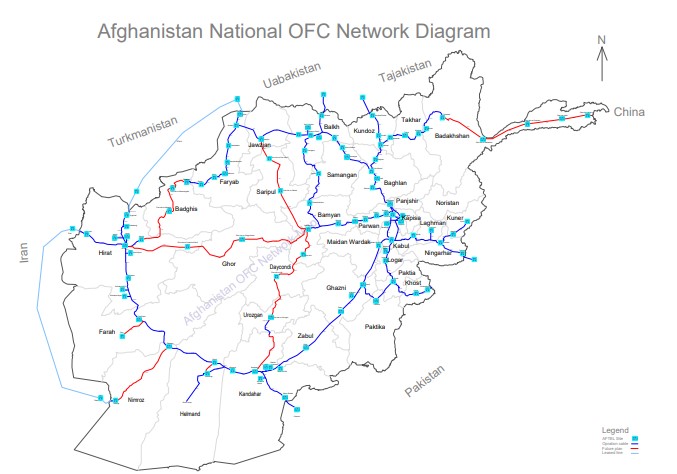 The national optical fiber network has an extraordinary capacity, which is one of the vital infrastructures in the path of the prosperity of Afghanistan's communication industry, not only the Afghan Telecom Company; But other telecommunication networks are also dependent on it.
The national optical fiber network has been built at a total cost of 152 million dollars with a capacity of 36 cores fiber with a length of 5700 km. The optical fiber network of Afghan Telecom is one of the main telecommunication infrastructures in Afghanistan and has been providing telecommunication and internet services to customers for 10 years which currently covers 25 provinces & 62 district areas in the country.
Redundancy Routes for optical fiber support lines have also been created to strengthen and prevent interruptions or disruptions in telecommunication and internet services, and the majority of governmental and non-governmental circles have been connected to optical fiber. In terms of regional connectivity, Afghanistan is connected to five neighboring countries - Pakistan, Iran, Tajikistan, Uzbekistan and Turkmenistan - at seven border points through the optical fiber network of Afghan Telecom. 
In this way, we are on the path of a tremendous infrastructural revolution in communication industry and network connectivity in Afghanistan. These all happened by the efforts of a national telecom company that is updating its capacity and efficiency based on global standards and using the tremendous power and Modern technology.
This major revolution is due to the management, knowledge, ability and will of the young team of the Afghan Telecom Company. Every progress in this brilliant path is an honor for the great nation of Afghanistan Because it connects our country to the caravan of human civilization and promises a bright future of prosperity and development.
The main achievements of the National Fiber Optic Network In recent years, the National Optical Fiber Network has achieved great achievements that make the realization of a huge revolution in Afghanistan's communication industry promising and attainable.1: Connected 120 schools of the Ministry of Education to the optical fiber network in Kabul and provinces;2: Connected 20 sites of Ministry of Public Health in Kabul and provinces;3: Connected 2 sites of the Ministry of Urban Development in Kabul;4: Connected 24 sites of the Post Office in Kabul and provinces;5: Connected 3 sites of local organizations (ارگان های محلی) in Kabul;6: Connected 29 districts of local organizations (ارگان های محلی) in the provinces;7: Connected 4 sites of the Supreme Court in the provinces;8: Connected Al-Beruni University to the optical fiber network;9: Connected 2 sites of the Directorate of Lands in the provinces. The domestic length of the optical fiber network is currently around 6000 km. Afghan Telecom's optical fiber cable has a capacity of 36 cores and SDH and DWDM technologies are used in it. In general, out of 36 cores, 4 to 16 cores are in use, and the rest of them are for connecting government offices to optical fiber cables.The fiber optic approximate gross revenue from fiber optic capacity rental is $5,291,923 per month.